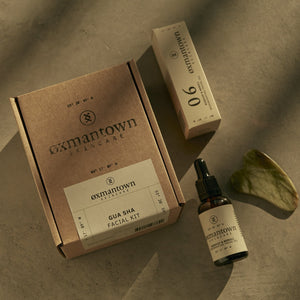 Founder Amy Cahill's background in health and wellness led her on the journey to create Irish Skincare brand, Oxmantown. Years of travelling extensively throughout the world, training in holistic therapies have informed her philosophy in creating natural skincare in Stoneybatter, Dublin.
Amy has created this range in the knowledge that everything we put on our skin absorbs into our body. She is passionate about skincare, using only the finest, natural and organic, botanical ingredients nature has to offer.
The beautifully crafted Gua Sha Facial Tool accompanies the Regenerating Facial Oil making the ideal Skin Care Kit for all skin types.
These two work in harmony together to give you healthy, radiant skin.
Get ready to de-puff, lift, contour and sculpt your face!

Benefits of Oxmantown Skincare Gua Sha Facial Kit:
Improves appearance and elasticity of the skin
Reduces puffiness and fine lines
Eases facial muscle tension
Allows for better absorption of facial oils/serums and creams.
Sculpts jawline and cheekbones, lifts, contours & de-puffs the face.
Aids lymphatic drainage
Promotes healthy, glowing skin

Due to natural formations in the stones, each tool will be unique and vary in size and colour from the picture that is listed.

To use: Firstly cleanse your skin. Apply a few drops of No.6 Facial Oil to the palm of your hand. Using the fingertips gently massage upwards into the skin. Using the Gua sha Massage one side of the face. Beginning at the side of the nose, drain outwards towards the ear. Repeat this stroke 4 times. Moving up the face. Gently work the forehead, chin and neck area. Repeat on the other side of the face.

Use a medium pressure, taking care gently around the eye area.