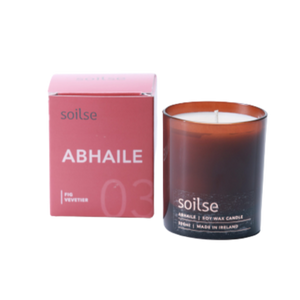 Soilse - meaning light or brightness in Gaelic.

We are delighted to collaborate with fellow Irish company, Soilse, to bring you a range of artisan Irish candles.

Every Soilse candle awakens a particular landscape and memory, the scent being a wonderfully evocative fragrance inspired by the natural beauty of Ireland.

Each candle is lovingly hand poured into amber glass jars and are made from 100% soy wax, infused with a unique blend of essential oil based fragrances that are all naturally produced and environmentally friendly.
Why not let a friend or loved one know you are thinking of them and send the gift of a candle! We pride ourselves on our gift wrapping so every candle comes packaged in our signature recyclable wrapping paper and natural twine.

Candle Scent: Abhaile
This fragrance opens with notes of fruity fresh fig blended with crisp greens and liquorice and sits on a bed of oak moss and tonka bean. Designed to restore, revitalise and comfort from within. Reminiscent of arriving home after a long trip.

Scent Notes: Fig, liquorice, oak moss, tonka bean

Burn Time: Approximately 48 hours
Dimensions: Height 9 x Diameter 8cm
Candle Care & Safety
-Remove all packaging and place candle on a heat resistant surface.
-Handle candle with care as it may become very hot.
-Never move or leave a burning candle unattended.
-Keep a burning candle away from children, pets, and draughts.
-Burn candle for no longer than 3 to 4 hours per lighting.
-Keep wick trimmed to ¼ inch and do not allow flame to touch glass surface.

Availability: Please allow 1 week for delivery of this item.