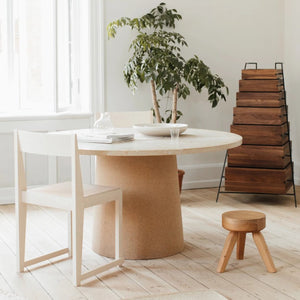 The thoughtful design and use of such beautiful natural materials work superbly together to create this stunning piece. The Sintra is suitable as a dining or meeting table where the contrast between the soft warm cork, meets the cold smooth marble. The distinction between the two shapes gives the impression of two worlds meeting one another.

Features
⦁ Seats 5-7 people
⦁ Variations can appear due to natural materials
Materials
⦁ Natural cork base, White marble top
Dimensions
⦁ Ø135 / H 77 cm
Design
⦁ Nicholai Wiig Hansen, 2011
⦁ Signature Collection
⦁ Made in Portugal

Availability: Please allow 6-8 weeks for delivery as this piece is made to order.
***Please note: The top and base are packed separately for the purpose of shipping.