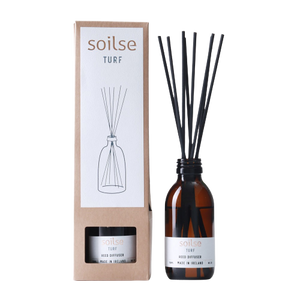 Soilse - meaning light or brightness in Gaelic.

We are delighted to collaborate with fellow Irish company, Soilse, to bring you a range of artisan Irish candles and diffusers.

Every Soilse candle and diffuser awakens a particular landscape and memory, the scent being a wonderfully evocative fragrance inspired by the natural beauty of Ireland.

Diffuser Scent: An intensely rich and full aroma inspired by a traditional Irish turf fire. Top notes of bergamot sit about spice and wood with a base of red cedar and amber.
Height: 25.5 cm
Width: 7cm
Volume: 150ml
Lifespan: 3-4 months

Availability: Immediate dispatch