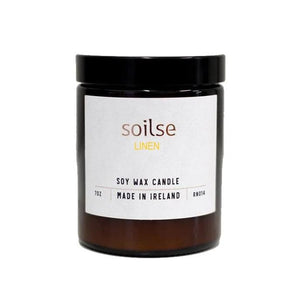 Soilse - meaning light or brightness in Gaelic.

We are delighted to collaborate with fellow Irish company, Soilse, to bring you a range of artisan Irish candles.

Every Soilse candle awakens a particular landscape and memory, the scent being a wonderfully evocative fragrance inspired by the natural beauty of Ireland.

Each candle is lovingly hand poured into amber glass jars and are made from 100% soy wax, infused with a unique blend of essential oil based fragrances that are all naturally produced and environmentally friendly.
Why not let a friend or loved one know you are thinking of them and send the gift of a candle! We pride ourselves on our gift wrapping so every candle comes packaged in our signature recyclable wrapping paper and natural twine.

Candle Scent: Linen
Tumbling into clean sheets, crisp from the line, still kissed by the warmth of the sun. This scent is as inviting as fresh linen and is infused with the summer breeze notes of Lavender and Geraniums.

Scent Notes
Top: Lavender
Heart: Geranium
Base: Fir Balsam

Burn Time: Approximately 30 hours
Weight: Approximately 300g
Dimensions: Height 8cm x Diameter 6cm
Candle Care & Safety
-Remove all packaging and place candle on a heat resistant surface.
-Handle candle with care as it may become very hot.
-Never move or leave a burning candle unattended.
-Keep a burning candle away from children, pets, and draughts.
-Burn candle for no longer than 3 to 4 hours per lighting.
-Keep wick trimmed to ¼ inch and do not allow flame to touch glass surface.

Availability: Please allow 1 week for delivery of this item.